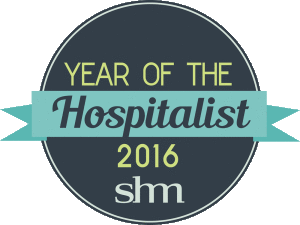 Editor's note: As SHM celebrates the "Year of the Hospitalist," we're putting the spotlight on some of our most active members who are making substantial contributions to hospital medicine. Log on to www.hospitalmedicine.org/yoth for more information on how you can join the yearlong celebration and help SHM improve the care of hospitalized patients.
This month, The Hospitalist spotlights G. Randy Smith Jr., MD, MS, SFHM, assistant professor in the Division of Hospital Medicine at the Northwestern University Feinberg School of Medicine and medical director of Unit 16 West at Northwestern Memorial Hospital in Chicago. Dr. Smith is an active member of SHM's Practice Analysis Committee and a Leadership Academy veteran who has translated his learnings into more efficient rounding and patient-flow methodology.
Question: What inspired you to begin working in hospital medicine and later join SHM?
Answer: Interest in taking care of acutely ill patients inspired me to start working in hospital medicine. Evolution of this interest into care-delivery design inspired me to remain in hospital medicine. Joining SHM enabled me to make contacts nationally with people who share similar interests and engage in collaboration, which has been helpful for my growth as a physician.
Q: How has SHM provided you with resources to improve patient care during your time as a member?
A: The SHM annual meetings have provided a consistent framework for dissemination of clinically relevant innovations and discoveries. Each year I've attended, I've always learned something new from both the posters on display and from a quality improvement presentation. Last year at Hospital Medicine 2016, the HEADS-UP plenary abstract presentation was one very good example of a different approach to interdisciplinary rounding that I would not have been aware of without attending the SHM annual meeting.
Q: How did attending Leadership Academy help you grow to reach your medical director position at Northwestern Memorial?
A: Leadership Academy helped to open my mind to principles of negotiation and expectation management as well as self-awareness, which are not usually presented in medical school or residency. Many of the skills taught can be learned the hard way through the trials of life, but the Leadership Academy accelerated my real-world learning.
My hospital's leadership recognized the skills I developed with the assistance of Leadership Academy, which helped me to maintain my effectiveness in my medical director role.
Skills obtained in the Leadership Academy helped me to incorporate ward-based afternoon throughput meetings into a hospital-wide patient-flow management network. I also learned to successfully negotiate procurement of chairs for our physicians to sit at the patient's bedside in the hopes of improving patient satisfaction.
Q: How has your work on the Practice Analysis Committee impacted how you manage your hospital medicine teams?
A: My involvement in the Practice Analysis Committee is yet another example of an opportunity provided by SHM to develop a skills set I would not otherwise have the opportunity to develop. Working on the State of Hospital Medicine survey involves prioritizing information with the burden of the respondents' time and effort in mind. Sensitivities to stakeholder interest play a major role as well.
Achieving balance between aspiring definitions of concepts to help drive the field and working definitions used heterogeneously throughout the country represents the hardest task of the committee members to sort; I'm very privileged to take the lessons learned through member dialogue and help colleagues apply the lessons locally.
Q: Hospital medicine is celebrating its 20th anniversary this year. How do you see the role of hospitalists evolving over the next 20 years?
A: Change has been a constant in hospital medicine since I began in 2004 and will continue to remain so. Because of the financial and documentary pressures placed on hospitals and physicians, hospital medicine finds itself in a state of flux at the moment. I believe these pressures will drive the 7-on/7-off hospitalist direct-care model as it exists today to evolve into something else. In particular, hospitalist groups, which engage solely in documentation and "decision in name" only and devolve all clinical decision making to another set of physicians in the hospital, are especially nonviable over the long term. I think many hospital administrators believe this as well. Hospital medicine must show value, including in the realm of direct clinical care.