Yet after some experience with this approach, Sound Physicians found that, for a number of reasons, this wasn't as valuable as hoped. They now survey a smaller sample of patients and sometimes adjust the questions based on the known or suspected strengths and weaknesses of individual providers. For one doctor, for example, the survey might ask whether the doctor spent enough time with the patient; for another, it might ask if the doctor spoke clearly, etc.
Dr. Rudolph thinks having someone such as the lead hospitalist observe the doctor while on rounds might ultimately prove more valuable than administering a survey. It will be interesting to see how his group and others around the country evolve their approach to better understand each provider's strengths and weaknesses and most effective ways to improve patient satisfaction.
How to Improve Patient Satisfaction?
In my April 2012 column, I wrote about several things for hospitalists to consider including in their patient-satisfaction improvement plan. And, of course, there are a lot of additional sources of ideas available just by searching the Internet.
I find it difficult to consistently implement a bundle of multiple different habits, such as always sitting or always rounding with the patient's bedside nurse, etc. I acknowledge these are proven valuable strategies to improve scores, but I still find it hard to do them consistently.
For some of us, it might be better to pick one thing to focus on. And while I don't have research data to prove it, I think the single most valuable thing to improve patient satisfaction with hospitalists is to phone patients after discharge. It isn't as difficult as most assume, and it often leads patients (or the family member you reach) to thank you profusely for the call. I think hospitalists can really benefit from more expressions of gratitude from patients and families, and these calls often provide it.
I've learned a few lessons about making post-discharge calls that are detailed in my August 2012 column. TH
---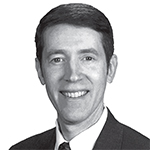 Dr. Nelson has been a practicing hospitalist since 1988. He is co-founder and past president of SHM, and principal in Nelson Flores Hospital Medicine Consultants. He is co-director for SHM's "Best Practices in Managing a Hospital Medicine Program" course. Write to him at [email protected].