Dear Dr. Hospitalist:
I completed my residency approximately a year ago and was hired by a large academic hospital medicine program with an H-1B visa. After six to eight months in what I thought was the "application process" for permanent residency, I discovered that the people responsible for filing the necessary paperwork had not done anything. During this delayed application period, it is too risky to travel internationally. While I'm still gracious for the opportunity to train and work in the U.S., I am depressed and angry because I haven't seen my family for almost two years. Should I escalate and complain about my situation beyond the director of my division or just sit back and wait it out?
Dr. Angry and in Limbo
Dr. Hospitalist responds: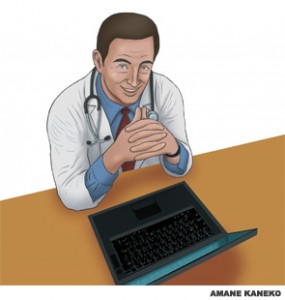 I can appreciate your angst related to your inability to travel and see family and friends for an extended period of time. Like most of us, you never really appreciate how precious free reign is until you lose it.
There were 2,576 H-1B petitions approved for physicians and surgeons in FY 2012.1 Even though the Society of Hospital Medicine does not currently track the number of international medical graduates (IMGs) in the U.S. practicing hospital medicine, most authorities believe it's between 20 and 25 percent of the current workforce. 2 Undoubtedly, many of these docs are already U.S. citizens, but most work in the U.S. on employer-sponsored programs (H1-B), with a few taking the J-1 visa tract. Both programs are often used as a catalyst to permanent residency, but the J-1 requires the individual to work in an underserved area for three years before being eligible.
Because the H-1B visa individual can only maintain this status for three years at a time for a maximum of six years, I'm assuming you used three years of the program to complete your residency and will either need to obtain permanent residency (a green card) very soon or will have to leave the country for at least a year before you can apply again. The law does grant extensions beyond this six-year period but only when certain parts of the green card process have been pending for one year prior to the requested H1-B start date.
Assuming you have no culpability for the delay in processing the application (e.g., you turned in necessary paperwork on time, responded timely to correspondence from processors), you have every right to be angry. The application process is tedious and very complex, with very rigid time constraints. Many organizations have used physicians with H-1B visas to fill the gaps in their recruiting without the necessary infrastructure to support the needs of this group. While I recognize it would be difficult for small groups or hospitals to afford knowledgeable and skilled support staff, the days of having part-time administrative support to manage this task are long gone. There are web-based organizations that are skilled and affordable for the smaller groups, and larger groups should invest in administrative staff to support their physicians with visas. After all, in this era of "we're all part of the team," it's difficult to feel valued when your ability to borrow money or travel internationally is limited or even worse: You could be deported.
As an ex-military guy, following the chain of command is in my blood. However, if after given reasonable opportunity to assist and rectify your issues, the division director is unresponsive or unable to assist, I would escalate to the department chair and beyond if necessary.
Good luck! TH
References