Editor's note: Each month, SHM puts the spotlight on some of our most active members who are making substantial contributions to hospital medicine. Log on to www.hospitalmedicine.org/getinvolved for more information on how you can lend your expertise to help SHM improve the care of hospitalized patients.
This month, The Hospitalist spotlights Scott Kaatz, DO, MSc, FACP, SFHM, a hospitalist at Henry Ford Hospital in Detroit. In addition to being an active SHM member, he is immediate past president of SHM's Michigan Chapter and has been involved in multiple mentored implementation (MI) programs offered by SHM's Center for Hospital Innovation and Improvement.
Question: What inspired you to begin working in hospital medicine and later join and become so involved with SHM?
Answer: For most of my career, I've been at Henry Ford Hospital in Detroit, including during my internal medicine residency. After residency, I was a primary-care physician there, and I rounded three to four months out of the year in the hospital with traditional house staff model. Four years ago, I transitioned to another role as a chief quality officer at Hurley Medical Center in Flint, Mich. While in Flint, I didn't have a clinic and was strictly a hospitalist, spending about four months a year rounding.
When my career path led me to mostly inpatient work in the hospital, I became more involved not only with hospital medicine but with SHM. As of this past June, I went back home to Henry Ford as a full-time hospitalist. I now focus my attention on hospital medicine for eight months of the year, with some protected time for faculty development and scholarly activities for residents and junior faculty in the division of hospital medicine.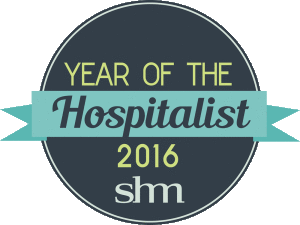 Q: How has your involvement with SHM's mentored implementation programs impacted your practice and led to improved patient care?
A: After participating in the venous thromboembolism (VTE) mentored implementation program, I became a participant as a mentee site for I-PASS, a program focused on improving communication between providers during patient handoffs. During my time with the I-PASS team, I could sense the commitment and energy to improving handoffs not only at my site but at other participant sites nationwide during our regular check-in calls. Mentored implementation programs are brilliant because they go beyond providing sites with data, a few research papers, and some written recommendations. They really dig down into the true spirit of mentoring with a team.
At Hurley Medical Center, we went "all in" with our pediatric residency. What was most encouraging was that by the end of the year, the I-PASS recommendations and processes were standard practice and fully integrated into the culture and workflow of the care teams.
I applaud these programs tremendously. That's really how you impact change, and it's the spark, energy, and momentum from both mentors and mentees that keeps the team on track.
Q: You are the immediate past president of the Michigan Chapter of SHM. What have been some of the biggest benefits of being involved with an SHM chapter?
A: When I first became involved with SHM, there had been a Northern Michigan Chapter, but since SHM seeks to have regional chapters that cater to local audiences, I and some of my colleagues set out to develop a Southern Michigan Chapter. We developed our chapter and designed our meetings with support from SHM's Chapter Support Committee.
At a typical meeting, we typically host an hour of cocktails with some hors d'oeuvres to provide an opportunity for networking and fellowship. The personal connections are at the heart of these meetings. From the content side, we always have a speaker to talk about issues germane to hospitalists. These are not just run-of-the-mill grand rounds discussions but rather information on clinical updates or the business and policy side of hospital medicine.