Flip Your Switch
And so while Dr. Murthy and Aunt Karen have little else in common, they do share the priceless ability to help others see the goodness in everything around them even when surrounded by remarkable challenges and uncertainty. What a unique gift they have.
But are there simple ways we can all incorporate such goodness into our lives and start to routinely build in these buffers?
In your own personal life and work life, what are your buffers? How could you routinely and repeatedly "find the good" in all things around you?
A few months ago, I started searching for what I call "inbox buffers" as I noticed my email inbox was routinely chock full of requests for time, advice, or resources (all of which can be limited). I found a daily email called "The Daily Good." It comes into my inbox early each morning and typically covers a human-interest story that is short, interesting, and inspiring. I have found these help me reset my mindset and attitude toward one that is more resilient and forgiving; in other words, it helps me find the good even within the crevices of a cranky email inbox. I have many other buffers, but I cite this one as it is simple, easy, free, predictable, dependable, and routinely inspiring!
So in this time when hospitalists are facing monumental change, unpredictable conflict, and unending challenges, we all need to purposely and repeatedly build in buffers to keep us hopeful and motivated and to seamlessly and routinely find the good in all we do. TH
---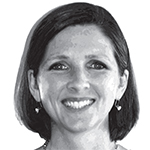 Dr. Scheurer is a hospitalist and chief quality officer at the Medical University of South Carolina in Charleston. She is physician editor of The Hospitalist. Email her at [email protected]